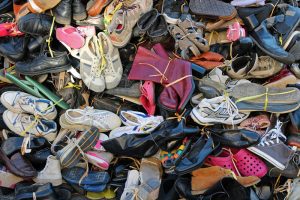 With our state of the art destruction equipment we are capable of shredding much more than just paper! We are your number one choice for secure Product Shredding and Disposal as well!
Our Product Shredding and Destruction Services are provided throughout the Houston, Dallas, Fort Worth, San Antonio, and Austin Metropolitan Areas. We maintain a consistent "chain-of-custody" from point of possession and throughout the entire product destruction process. A Certificate of Destruction is issued for every project and can be tailored to provide any "project-specific" information that is required by our clients.
Controlling product liability and protecting your company image is an important aspect in protecting your brand. A company's reputation is a vital factor in creating a positive public image to its customer base, shareholders and community. Factory defects, design flaws, and product recalls are just a few reasons in which product shredding and destruction is necessary. Product Destruction protects your brand and eliminates your liability if your product is defective. Properly destroying your items keep them from ending up in the wrong hands and ending up at your local flea market or on the black market.
For more information on our Product Destruction and Secure Shredding Services contact us today!