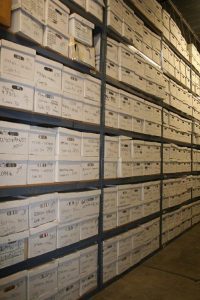 Data Shredding Services of Texas, Inc. provides secure Records and Document Storage Services to the Houston Metropolitan area.  We specialize in Off-Site Record Storage services for all of your information management needs.  Our Houston Records Storage division provides our clients with a full range of data storage and document storage services throughout the Houston Metro area. From small growing businesses to large corporations our storage division provides the highest level of security and confidentiality in handling your company's records. Your documents are stored, serviced and delivered as you specify.
Our record storage process utilizes the most advanced Bar Code Tracking/Inventory Technology Software available to maintain complete and accurate storage control.  Storing your company's records at your location often puts your records at risk of being lost, damaged, or stolen.  Our record storage facilities utilize state-of-the-art security protocols that monitor and protect your records 24 hours per day, 7 days per week.  Storing your records off-site with us protects your documents while allowing you full access to your records whenever you need them!
For More Information Regarding our Record Storage and Document Storage Services in the Houston Metropolitan area please contact us today!