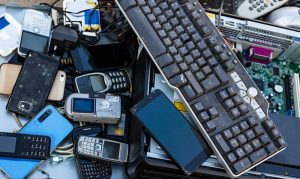 Data Shredding Services of Texas, Inc. shred's more than just paper by specializing in the secure destruction or shredding of electronic media including hard drives, x-rays, micro-film, CD's, tapes, andmore. We also securely destroy cell phones, lap tops, PC's, modems, and much more! As we rely more and more on electronics for our daily life Identity Theft risks continue to increase across the country. As large scale data breaches become all too common and more of a concern it is more important than ever to properly dispose of electronic media of all forms!
Data Shredding Services of Texas, Inc. maintains the highest level of security to date within the shredding industry as a National Association for Information Destruction (NAID) "AAA" Certified Member for Hard Drive and Electronic Media Destruction.
Our secure Electronic Media Destruction and Recycling Services are provided throughout the Houston, Dallas, Fort Worth, San Antonio, and Austin, Texas metropolitan areas. We can assist with your electronic destruction and recycling of computers, laptops, monitors, printers, cables, UPS, and more!
Please contact our office today for more information on our Electronic Media and Recycling Services!