Our security containers are offered free of charge with regular monthly shredding service.
By law (AB2246), as of January 1, 2001 you must shred any document that identifies, relates to, describes or is capable of being associated with a particular individual.
The Supreme Court has ruled that information in your trash is "fair game" to anyone. Privacy laws make you vulnerable to law suits when personal records are disclosed to outsiders – even by accident!
The 1974 Federal Privacy Act was established to insure that government agencies protect the privacy of individuals and businesses with regard to information held by them and to hold these agencies liable if any information is released without authorization.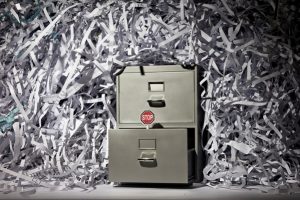 Theft, Vandalism and industrial Espionage are becoming ever increasing security problems. Today's information explosion can be devastating to your business. With the increased use of office copiers and computers, staggering amounts of sensitive information are being generated and carelessly discarded.
Dun's Review estimates that corporate espionage costs US businesses over $7 billion in losses yearly. It's believed that one in four American adults have been defrauded in various identity theft schemes.
Your trash, your credit card, phone card, even your junk mail may be the source of a financial and personal catastrophe. It's an unimaginable nightmare for most people, and a nefarious windfall for the growing ranks of corporate scavengers and identity thieves currently farming America's trash.
What is FACTA?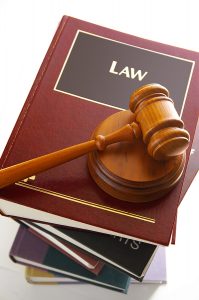 FACTA is he Fair and Accurate Credit Transaction Act, a new federal law designed to reduce the risk of consumer fraud and identity theft created by improper disposal of consumer information. The Federal Trade Commission (FTC) has issued their FACTA DISPOSAL RULE which:
It applies to virtually every person and business in the United States.
It requires the destruction of all consumer information before it is discarded.
Potentially Severe Penalties Await Violators
According to the FTC's, FACTA DISPOSAL RULE, "any person who maintains or otherwise possesses consumer information for a business purpose" must properly destroy discarded consumer information and "must properly dispose of such information by taking reasonable measures to protect against unauthorized access to or use of the information in connection with its disposal."  The federal government is authorized to bring enforcement actions in federal court for violations of the disposal rule for up to $2,500 in penalties for each independent violation of the rule.  Contracting Data Shredding Services of Texas, Inc. to shred all of your consumer information is the best way to comply with FACTA.
WHAT IS HIPAA?:
The Health Insurance Portability and Accountability Act of 1996 (HIPAA) is a federal law that required the creation of national standards to protect sensitive patient health information from being disclosed without the patient's consent or knowledge. The US Department of Health and Human Services (HHS) issued the HIPAA Privacy Rule to implement the requirements of HIPAA. The HIPAA Security Rule protects a subset of information covered by the Privacy Rule.
HIPAA Privacy Rule:
The Privacy Rule standards address the use and disclosure of individuals' health information (known as "protected health information") by entities subject to the Privacy Rule. These individuals and organizations are called "covered entities." The Privacy Rule also contains standards for individuals' rights to understand and control how their health information is used. A major goal of the Privacy Rule is to ensure that individuals' health information is properly protected while allowing the flow of health information needed to provide and promote high quality health care and to protect the public's health and well-being. The Privacy Rule strikes a balance that permits important uses of information while protecting the privacy of people who seek care and healing.